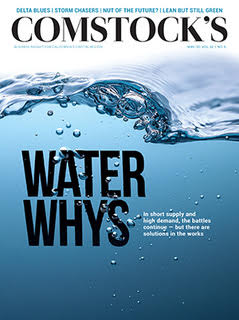 This story is part of our May 2020 print issue. To subscribe, click here.
Not long ago, meal prep delivery services seemed like the biggest food business innovation since sliced bread. Powered by algorithms and venture capital, startups such as Blue Apron sent out boxes of ingredients ready to be assembled like model train kits. Others, like Munchery, went a step further and mailed the meals themselves. Investors lauded the companies as disruptors, despite the products' resemblance to the prototypical American convenience food: the TV dinner.
For the past few years, though, the meal prep market has been on a death march. Blue Apron, once the market leader, laid off 240 workers and shuttered its Arlington, Texas, distribution center in February. Other bandwagoners have been even less lucky. San Francisco-based Munchery, which raised $120.7 million in venture funding between 2013 and 2015, shut down abruptly in January 2019. It was the latest in a chain of similar concepts, born in the optimistic first half of the 2010s, that floundered in the second: Din and SpoonRocket closed in 2016; Bento, Maple and Sprig in 2017, Chef'd in 2018 and Kettlebell Kitchen in 2019.
The surging demand for food delivery in the wake of the coronavirus has had an impact on the surviving businesses, including Blue Apron, whose stock rose 500 percent in the third week of March. It's too early to say if growth will continue after restrictions are lifted and consumers can shift back to their regular shopping habits.
In the Capital Region, a homegrown meal prep market has been thriving for years. There are more than a dozen meal prep services in the region, ranging from the home-based and dubiously legal to nationally distributed brands.
Like the national contenders, these local companies ship meals or ingredients to customers' homes, by subscription or a la carte, and promote themselves as healthy, efficient alternatives to cooking or dining out. What sets them apart is their scale: Unlike the VC darlings Blue Apron and Munchery, Sacramento's meal prep companies rely on their own earnings. Entrepreneurs in this sector claim that meal prep can be an efficient alternative to traditional food business, with less overhead and a more predictable cash flow — as long as people are willing to stay subscribed.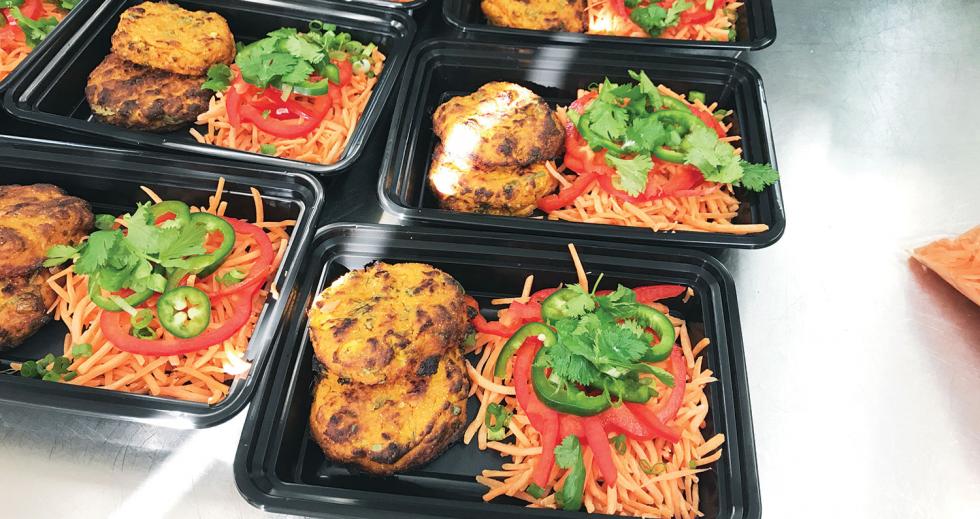 The largest local meal prepper is Trifecta Nutrition, launched by siblings Greg and Elizabeth Connolly in 2015. Trifecta has partnerships with big names, including the UFC, CrossFit, the PGA Tour and Team USA, and more than 100,000 people around the country have subscribed to the meal service, Greg Connolly says. He saw an uptick of demand of about 25 percent over the first quarter after the coronavirus reached the United States.
"The thing that's served us very well, actually, is that we haven't gone out and raised a ton of money, like a lot of our competitors that are dead along the way," says Elizabeth Connolly. "They could spend a lot of money and not make money, and it was OK, because they have millions of dollars in the bank. … We haven't done that, so we had to be scrappy and make sure the costs make sense."
Trifecta also has a different marketing strategy than its national competitors. While Blue Apron marketed so widely that its customer-acquisition cost dwarfed its per-customer revenue, Trifecta aligned itself early on with a narrow niche: athletes, fitness influencers and the people who admire them. The marketing team sent free meals to CrossFit stars with small but devoted fan bases in the hopes that they would post about them on social media.
After gaining the support of local angel investor Mark Haney, Trifecta started landing partnerships with UFC wrestlers, including Sacramento's Urijah Faber. Though Trifecta still sends meals to influencers and athletes, most of the company's complimentary subscriptions now go to its 350 employees (50 in the Sacramento office, 300 at its Los Angeles manufacturing and packing facility).
Another fitness-focused, social media-savvy meal prep startup will arrive in Sacramento by the end of 2020. MealPro, based in San Jose, is in the process of moving operations to a lower-rent industrial space on Auburn Boulevard. For now, the company is establishing its local presence at a temporary storefront in Old Town Roseville. MealPro was founded in 2016 by Andy Sartori, a UC Santa Cruz alum with a penchant for bodybuilding.
But MealPro isn't just for bodybuilders. "We also have the old lady that doesn't have her license and needs nutrition delivered to her door," Sartori says. "We have somebody who's on a low-sodium diet and can't have a cheap meal, unlike you and I that can just walk into a Chipotle and buy whatever." These are market shares that are not served by traditional food businesses, he says.
"With delivering meals, you can reach so many more people," adds Sartori, who managed a Panda Express and owned a food truck before launching his meal prep delivery service. "In a restaurant, you might just have people that drive 1 or 2 miles to visit your shop." MealPro delivers meals to all contiguous 48 states through UPS, with subscribers concentrated in California. (Sartori declined to share the number of subscribers, but says demand has increased since the shelter-in-place order.)
Improvements in e-commerce and shipping — and consumers' trust in the system — are key to the growth of meal prep delivery, says Greg Connolly, who uses FedEx and Golden State Overnight to send Trifecta meals. "The internet seems safe now, and food just happened to be one of the last market segments to move to e-commerce," he says. Advancements such as vacuum-sealed packaging, dry-ice chilling and reliable overnight delivery help ensure the safety of fresh food products, and Connolly credits Amazon for fostering consumers' comfort with "ordering what's largely one of the most intimate things you can order, your food, from the internet."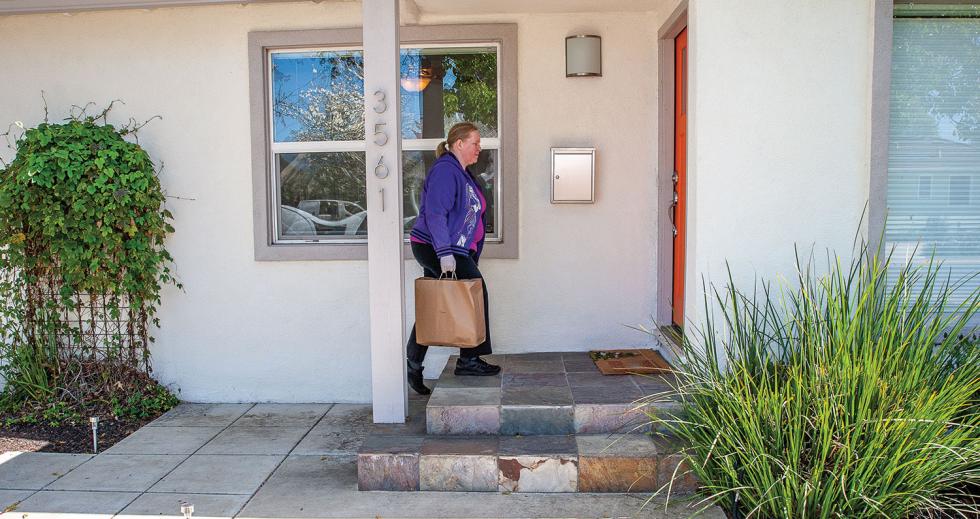 Not all meal prep companies have Amazon ambitions. In Sacramento, many operate on a local scale, preparing dozens or hundreds of meals weekly and delivering them with personal vehicles. Some work illegally out of home kitchens (California's cottage food law allows a short list of products that pose low food-safety risks, such as candy and cookies, to be sold out of homes).
One exception is Kimberley's Kitchen, owned by former supply chain manager Kimberley Bernhardt. After starting a cottage food business that sold approved foods like dried soup mixes and spice blends, Bernhardt used her 15 years of supply chain expertise to build one of Sacramento's only commissary kitchens. Today, she runs a subscription meal service out of the kitchen and rents the kitchen by the hour to caterers or entrepreneurs who want to grow beyond the cottage food law.
Kimberley's Kitchen meals come in two main varieties, one vegan and the other inspired by the vegetable-forward, seafood-rich diet Bernhardt ate during her adolescence in Greece. But the company's small scale allows her to offer many more varieties tailored to customers' specifications, she says. (Her delivery range generally stays within the Sacramento region.)
"We're gaining more customers than we're losing in any given week, which is good. The kitchen I have right now could probably easily double what we're doing."

Kimberley Bernhardt Owner, Kimberley's Kitchen
"We have a more low-carb option that we started doing, initially, for one customer," says Bernhardt. She sent out vegan meals without potatoes, grains or pasta, and in two months, the customer had lost 20 pounds. "Because we're local and relatively small, and I know all my customers, I can do variations like that which, probably, if you're signing up for one of those really large services, might not work so well," she says.
Despite the national status of meal prep, Bernhardt's business is growing steadily. "We're gaining more customers than we're losing in any given week, which is good," she says. "The kitchen I have right now could probably easily double what we're doing." After the coronavirus shelter-in-place orders, she had a spate of cancellations from customers who said they had less money to spend — but an increase in mail orders for her original product, dry soup mixes.
If Sacramento's meal prep scene turns out to be a bubble, Bernhardt has a backup plan. Her kitchen rental spaces are in high demand, and she also does event catering — meal prep on a larger scale. She hopes to revive this part of her business once the coronavirus crisis resolves. "I'm in business to be in business," she says. "So if something doesn't work … instead of trying to get the customers to want it, I change the business."
—
Stay up to date on business in the Capital Region: Subscribe to the Comstock's newsletter today.