By: Vanessa Labi
Remember the latter half of the 2010s, when coworking spaces started to crop up more and more? The Comedy Central show "Broad City" even spoofed the WeWork concept with the show's zaniest character starting up her own "SheWork" business (although she calls it a "shizness") using the city's free charging stations and chairs she'd scrounged from off the street. Thankfully the Capital Region's coworking businesses are actually legitimate, outfitted with event spaces, dedicated podcast rooms and comfy sofas. Some even have trendy coffee shops attached.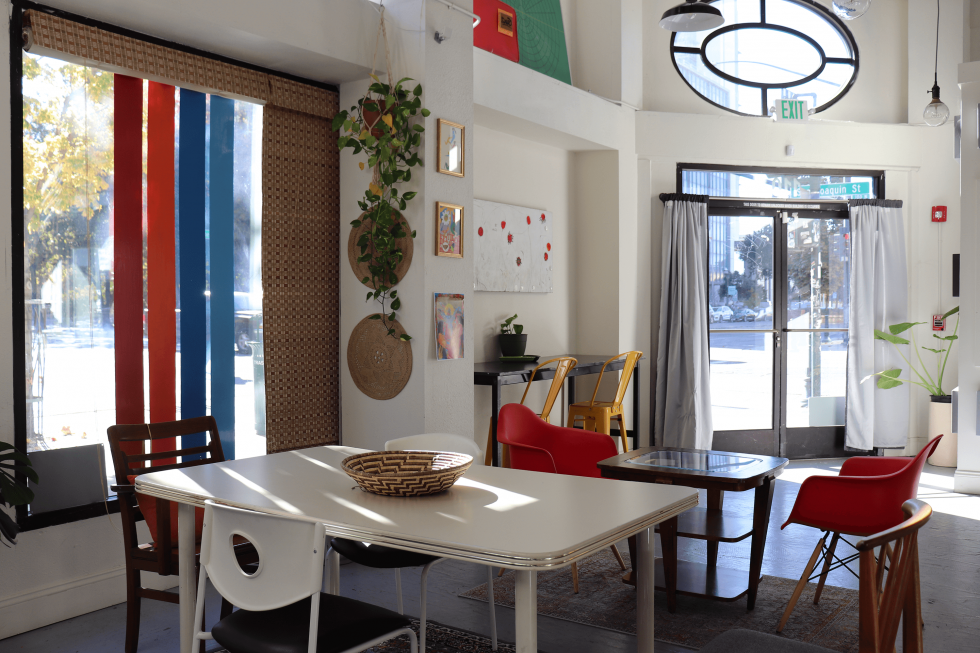 But how is business for the owners of these coworking spaces, cool and comfy as they are? Comstock's contributor Ben Sanchez reports that coworking spaces suffered a loss in memberships during pandemic shutdowns, which caused many professionals to get used to their home offices, even after restrictions were lifted.
Ben examines coworking models in Stockton and Sacramento, including one Portland-based chain that opened a downtown Sacramento branch in one of the area's opportunity zones. Learn more about this developing sector in the December feature, Cultivating Community.
Here's the rest of the Capital Region Rundown:
The director of airports for Sacramento County shares how she handles emergencies while running a sprawling organization; we go off the beaten track to see how a Grass Valley toy store has delighted visitors for decades; electronic band Tycho plays three special shows at Harlow's, a significant Sacramento venue in the band's history; and the annual holiday bazaar Makers Mart returned last weekend with renewed energy and a record 75 homegrown vendors.
Recommendations from our editors:
In this section we editors share what we're reading, listening to, watching or even eating. Here's what we're consuming this week:
Judy: You might guess by now I'm a big sports fan. So I was thrilled to check an item off my bucket list when I got to see Tom Brady play against the 49ers on Sunday at Levi's Stadium. I also got to ask Tom a question at the post-game news conference. The game was a blow out for the Buccaneers but I can report 49ers fans are thrilled with their new rookie quarterback Brock Purdy, who went up to Brady after the game and called him "Sir." Btw Purdy is 22 and Brady is 45!
Jennifer: This weekend, I saw Cardinal Ballet's production of The Nutcracker at Stanford University, where my sister played one of the waltzing grown-ups at the opening Christmas party. This Thursday, I'm going to see The Nutcracker again in Folsom, this time by Pamela Hayes Classical Ballet with music by the Folsom Lake Symphony. Tickets to the latter production are selling fast!
Vanessa: Alas, season 2 of "The White Lotus" is over! I ate it up — the costuming, the fan theories, the Jennifer Coolidge memes. If you watched the HBO drama too and are still thinking about it, listen to these podcasts for some great commentary and behind-the-scenes interviews with the show's creator Mike White and its cast: "Still Watching" by Vanity Fair and Terry Gross's interview with Mike White on "Fresh Air."
Odds and ends:
Thanks to those who nominated an exceptional leader for our upcoming Women in Leadership issue! We have some excellent candidates to choose from and we can't wait to share their stories with you come March.
Don't forget to subscribe to the magazine to stay up to date on the region's business trends, and follow us on Instagram, Facebook, Twitter and LinkedIn for daily stories and extras.