By: Vanessa Labi
There are certain rhythms to the workplace that make it predictable and comfortable, from the calendar to the people we see at the office (or on Zoom). When those expectations are shaken up with a special guest, it can be very exciting. We were delighted to welcome performance painter David Garibaldi to our office on Monday for a viewing of the original painting he created for our April cover.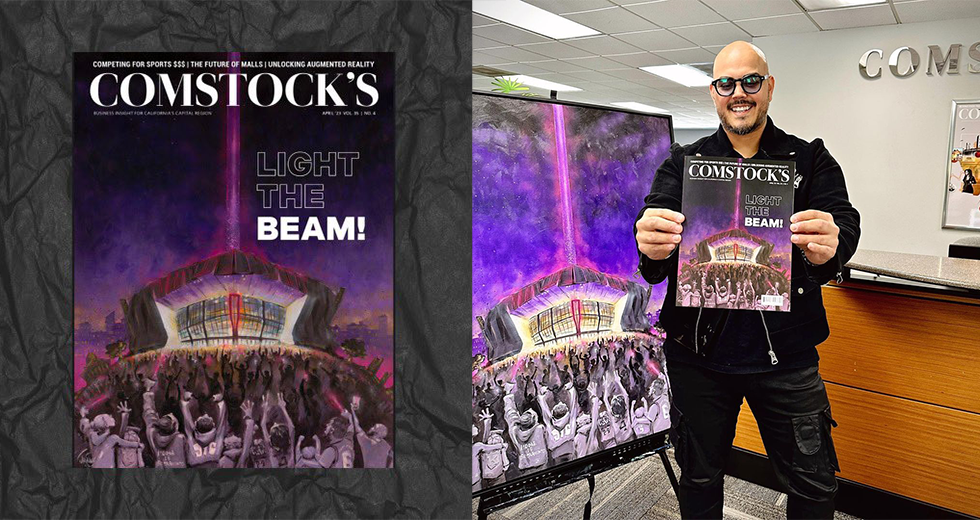 April's cover design corresponds with Editor Judy Farah's cover story, "Battling for Bucks," which delves into Sacramento's sports landscape — how we're luring fans in spite of losing some to the Bay Area teams. The cover is also a special tribute to the Sacramento Kings, their triumphant season and the economic impact they've had on the Capital Region.
When planning the visuals for the story, Judy expressed the call for a splashy cover that would characterize this buzzy moment in Sacramento sports. We knew the illustration had to be of the Sacramento Kings' purple beam, the proud symbol of a winning night that elicits a pure and simple joy among fans. After all, the sky was pierced purple quite often as the Kings made their way to the playoffs for the first time in 16 years.
We approached our first choice, David Garibaldi, the world-renowned artist known for his performance paintings, never expecting him to be available. But we were delighted to learn that Sacramento's native son was more than game to create this cover for the Kings, their fans and his hometown. The painting practically glows in person, and it was a pleasure to have David (and his kids) grace our office before sharing his process on Fox40. We hope you enjoy this collector's item as much as we do.
Farewell and thank you
This is my last newsletter as deputy editor of Comstock's before I move on to my next chapter as assistant arts and culture editor for the San Francisco Chronicle. Comstock's was an exciting re-entry point into journalism for me, after years of pretending I was OK with being a marketer instead of my dream of being a writer and editor. It has actually lived up to my dream job expectations! How often can you say that?
I think it's pretty remarkable that throughout the print media industry's challenges — and the decline of local journalism over the past few years — Comstock's has remained a reliable source of editorial insight that always goes beyond business with careful analysis and storytelling. So much consideration, passion and care goes into this magazine, and I'm grateful to have been a part of it.
Senior Editor Jennifer Fergesen will be taking over the newsletter for the next few weeks.
Here's the rest of the Capital Region Rundown:
We consider the business impact of the "beam effect," which has inspired purple cocktails, merch and more; Winnie Comstock-Carlson comments on the value of Career Technical Education programs in community colleges that impart skills for a specific trade; contributor Steve Martarano covers the drama, thrills and economic impact of NCAA's March Madness tournament in Sacramento; Crocker Art Museum's Houghton Kinsman writes this month's Art Exposed on Summer Ventis, who uses balloons as one medium to encourage processing of the pandemic; and Darcy Totten, director of communications for the Commission on the Status of Women & Girls, writes a guest column on the women-specific research she co-authored in the California Blueprint for Women's Pandemic Economic Recovery.
Recommendations from our editors:
In this section we editors share what we're reading, listening to, watching or even eating. Here's what we're consuming this week:
Judy: In second grade, my teacher Miss Rozelle gave out a Bobbsey Twins book every week to whichever student excelled. I was so excited when I got mine and couldn't wait to read it. I went on to read all of the series, graduating to the Nancy Drew mysteries, comic books and newspapers. Sadly, children aren't reading as much anymore. Recent articles in both The Atlantic and Los Angeles Times say you can't blame it on screen time alone. Kids today find the task of reading a book overwhelming, can't find topics they enjoy or are too busy with activities and schoolwork. Experts suggest making sure kids pick a book at their reading level, have them read aloud with you and take a visit to the library to help them explore. By the way, I still keep in touch with Miss Rozelle and have thanked her for giving me a love for reading.
Jennifer: While I'm on the East Coast, my parents try to take me to as many Broadway shows as they can manage (thanks to my teacher mom's TDF membership). Last weekend was Andrew Lloyd Webber's new musical "Bad Cinderella," which I wasn't so looking forward to after reading the New York Times' hilariously bad review. But the show ended up being fun in the way most of Webber's musicals are fun — that is, perfectly suited to the tastes and worldview of a 12-year-old girl. So I got into that mindset and enjoyed it.
Vanessa: The Israeli side of my family is in town for a visit! Tonight we'll celebrate Passover together and feast on all the special symbolic foods of the holiday. This is the first time we're celebrating in Sacramento; since I was a kid, I've always flown down to L.A. for the festivities. My aunt is an educator of Judaic Studies, so there are always tons of teaching moments and connections to modern-day social justice movements made around the seder table. If you're curious about the food, which is delicious despite being free of leavened bread, KCRW's Good Food has some great recipes.
Odds and ends:
We've extended our deadline for Young Professionals nominations to Friday, April 28. Please take a few minutes to nominate a mover and shaker age 40 or under who inspires you.
Don't forget to subscribe to the magazine to stay up to date on the region's business trends, and follow us on Instagram, Facebook, Twitter and LinkedIn for daily stories and extras.