Corey Day
Attorney, Stoel Rives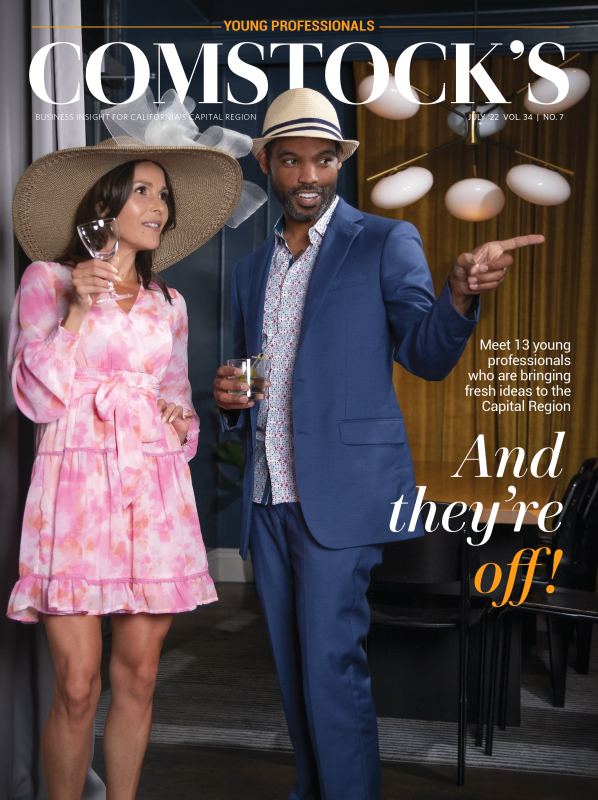 This story is part of our July 2022 Young Professionals print issue. To subscribe, click here.
Corey Day, a commercial litigator with Stoel Rives with a practice focused on the alcohol beverage industry, believes in saying "yes." Be it for personal growth, professional networking or general fulfillment, the 36-year-old is all about welcoming what "yes" can bring your way.
Day's up-for-the-challenge approach and expertise in California alcohol law has allowed him to guide bars and restaurants through the many restrictions and economic challenges of the COVID-19 pandemic. Currently in his third year as an associate attorney at Stoel Rives, he leads commercial litigation matters for clients in a wide range of industries, and in recent years is helping to grow the firm's alcohol sector practice. Of the latter, he says, "Small businesses are just looking to figure out how they can comply with the law, because that's all they ever want to do," he says, "but sometimes it can be hard to understand and comply with."
"(Legal support) helps businesses either limit liability or increase their potential to make money. All those things lead to the ability to employ more people in the area and grow the reputation of Sacramento."

Corey Day, Attorney, Stoel Rives
This legal support "helps businesses either limit liability or increase their potential to make money," Day explains. "All those things lead to the ability to employ more people in the area and grow the reputation of Sacramento." The success of the region's breweries, distilleries, restaurants and wineries "frees them up to turn around and give back" to their communities, he says. As a craft beer fan and a social butterfly, he values gathering places where people can connect in person.
Day's interest in alcohol law was sparked during the last stretch of undergrad work at UC Davis when he and some buddies got into home brewing. "It's really just a unique area," says Day. "It's one of the most heavily regulated industries out there." Day continued at UC Davis for law school, working multiple jobs and internships throughout. Following a brief nail-biting period between graduation and the bar exam, he scored his first job at Sacramento law firm Porter Scott.
Day credits the upward movement that followed to his "unmitigated joy" and role as "the most upbeat, positive person in the office." His civic-minded sensibility helped him grow into leadership roles and exert considerable influence over the cities of Davis, Sacramento and beyond. The community posts Day has occupied include serving as executive committee board member and legal counsel for the Davis Chamber of Commerce, providing vital support to "Healthy Together Davis," and helping to relaunch "Make Davis Sparkle," an annual cleanup event. Day, who lives in Davis with his wife Ashleigh Day and their pets, now serves as vice president of the chamber.
The attorney also advises on food-related programs such as Alchemist Kitchen, the Sacramento program providing under-resourced neighborhoods and entrepreneurs with business training programs, and occasionally lectures at Sacramento State for a pilot course on brewing and distilling. "The goal is to have it be a permanent class where college students can learn everything there is to know … from the history, how it works, the marketing and the business, and the laws," he says.
Day admits he has a lot on his plate, but he simply wants to see the region have cool things, and recognizes that those things can be complex on the back end. Another cool thing he provides is pro bono legal counsel for CapRadio, which he hopes will allow alcohol to be served at their new downtown venue, a potential stimulus for ticket sales and vendor business. "That's going to give great education and public arts back to the community for generations," he says. "Things like that seem small but are going to hopefully have a big impact later."
Editor's Note: This article has been updated to clarify Day's role as a commercial litigator.
–
Get all the profiles in our Young Professionals issue delivered to your inbox: Subscribe to the Comstock's newsletter today!