Happy summer solstice. The season is wafting into the Capital Region the only way it knows how — with plenty of hot, hot heat and the occasional respite in the form of that sweet, sweet Delta Breeze.
The weather might be predictable, but the return of arts and culture events hasn't been a sure thing for over two years. Events — bustling festivals, raucous concerts, buzzy gallery openings — are back! OK, we know we've said that before. Artistic outings have been a bit touch and go over the last two and a half years for obvious public health reasons. But summer 2022 is looking good so far, with the momentum of arts and culture events sustaining a steady return.
Now for the caveat. (Sorry, those are still a thing.) The pandemic is ongoing. Cases in the Sacramento area — as reported by the New York Times' coronavirus tracker — are high. But as of today, vaccination rates in the Capital Region are strong. Sacramento County's most recent vaccination data reflects that the rate of fully vaccinated people in Sacramento county is up to 70.09%, and rates in Placer County and Yolo County are even stronger. Whether those numbers still give you pause, or if we had you at "events are back," Steve Martarano has all the details in his feature story, "The Return of Arts and Music Festivals."
In addition to the reemergence of gatherings, we have all kinds of summer stories for you this week, from the region's most iconic meat markets (just in time for barbecue season), to baseball, Pride, and promising developments in Wheatland's water meters.
Here's the latest Capital Region Rundown:
Capital Region butcher shops provide barbecue lovers with mouth-watering marinades and specialty cuts; smart water meters provide water savings and send alerts to customers' phones if water usage spikes; the region's growing green workforce is working to mitigate greenhouse gas emissions; arts and music festivals help shape the state capital's identity outside of government; we march down memory lane to reflect on the history of the Sacramento LGBT Center's annual Sac Pride March and celebrate its recent display of inclusion; and baseball gets experimental by embracing electronic devices that help umpires make their calls.
Recommendations from our editors:
In this section we editors share what we're reading, listening to, watching or even eating. Here's what we're consuming this week:
Vanessa: I recently got lost in a reading of The Atlantic's recent story, "Joan Didion's Magic Trick." The writer, Caitlyn Flanagan, examines just what was so seductive about Didion's California lifestyle, and goes at it through the lens of the places — and more specifically, the actual houses — in which she lived throughout her life. I was especially excited to learn more about the Sacramento houses she lived in throughout her childhood and teenage years. Sacramento has gotten some flack for not recognizing Didion enough, but in recent years there's been a new loft building called The Didion, and just last week the Sacramento Historical Society announced it commissioned a life-sized statue of the late author to sit in the Sacramento Room of the Central Library.
Judy: Europeans are discovering California food and realizing we're not just the stereotypical burgers and pizza. The Los Angeles Times takes a look at this new foodie scene in a video report.
Jennifer: If you've been on TikTok (or its imitations on Instagram Reels) in the past few months, you've heard the unlikely rap stylings of British American journalist Louis Theroux: "My money don't jiggle jiggle, it folds." The viral lines originate in a 2000 episode of "Louis Theroux's Weird Weekends," a series he hosted that explored various fringe subcultures, like extreme bodybuilding and demolition derby. (This BBC clipshow gives a sense of its unabashedly awkward vibe.) I've been a fan of "Weird Weekends" and its clear-eyed, outsider-insider take on American culture for years, so I'm hoping the TikTok boost will make Theroux's oeuvre more widely available. For a primer on Theroux and his rap, check out The New York Times' recent profile.
Odds and ends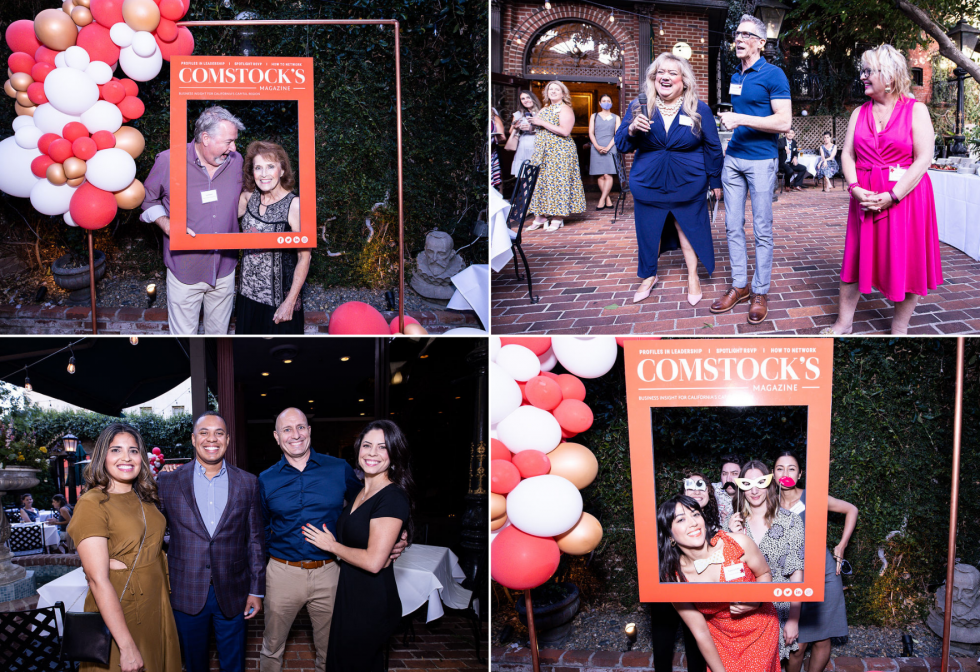 Last week we celebrated our clients with a summer soiree in the lush courtyard of the Firehouse Restaurant in Old Sacramento. It was a lovely gathering of clients, staff and friends of the magazine. We were saddened to hear of the recent passing of the restaurant's owner, Lloyd Harvego. His contribution to the fabric of Sacramento is significant, a reflection of both its history and bright future.
Don't forget to subscribe to the magazine to stay up to date on the region's business trends, and follow us on Instagram, Facebook, Twitter and LinkedIn for daily stories and extras.