As the sun set on Sacramento Saturday, Sept. 10, eight blocks surrounding the city's art-steeped R Street Corridor began to transform into the Our Street Night Market. In place of cars, the darkening streets filled with a mostly millennial crowd decked out in various interpretations of festival attire — a leather minidress here, a cartoon-print Hawaiian shirt and matching bucket hat there.
Some packed into rainbow-colored tables to eat Taiwanese fried chicken cutlets the size of Little League baseball mitts, ice cream sundaes piled into Hong Kong-style egg waffles, Nicaraguan nacatamales steamed in banana leaves, or other street food dishes from over 80 vendors. Others danced at the silent disco or perused the pop-up art exhibits, including a live painting installation curated by Jose Di Gregorio.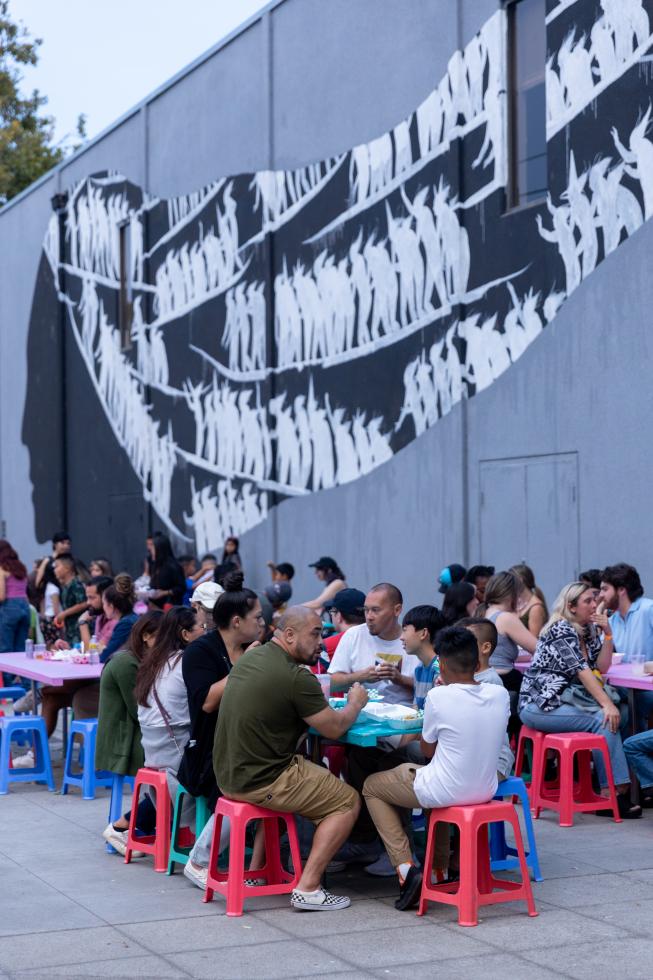 An estimated 25,000 people attended the event, organized by Sacramento-based marketing and design firm Yellow Brick Group. The first night market, held in 2018 on two blocks, attracted 10,000 people and sparked the success of local brands like Nash & Proper; by 2019, it had stretched to its current size. After the three-year pandemic hiatus, Our Street has grown into a tightly choreographed event that brings in visitors from across the Capital Region and as far afield as the Bay Area. We asked Yellow Brick Group co-owner Shawn Kahan for his post-event takeaways and thoughts on showcasing Sacramento's cultural and culinary diversity.
Where did the idea for Our Street Night Market come from?
As we started our agency, we wanted to be able to save space to work on projects that were a passion project for us and things that we wanted to see happen in our community. The night market project came from that.
Myself and my business partner, Curtis (Currier), we live at the Warehouse Artist Lofts, which is on R Street. We were fortunate enough to be some of the first residents to move in. The building was developed by a man named Ali Youssefi. He became a friend and mentor to us, and he actually passed away at the age of 35. When we first moved in, we felt very grateful, because he had this vision that if he could build a place where artists could spend less time making ends meet, they would spend more time making our city a more beautiful place. We really felt the responsibility to prove him right, and when he passed away, that responsibility became a little bit heavier on our shoulders, and we felt like we needed to come up with an answer to the question of how do we prove him right. The night market became the perfect answer to that.
Around that time, I was traveling a lot in Asia and discovered the night markets in Taiwan, Hong Kong and Vietnam. I really gravitated towards them as they were a place for working class people to come and have a meal, have some fun together and wind down. I felt like that was really Sacramento, and I felt like we deserve to have something like that.
How did you pull together the first events in 2018 and 2019?
About 15 years ago, we were just young tots running around Midtown, and we got to experience all the fun, smaller events that happened around Second Saturday. We saw how people collaborate and make it happen, but more importantly, we saw how crucial those events were for the small businesses to be able to be sustainable and scale. So when we first started conceptualizing and planning for the first night market in 2018, we had a little bit of perspective that if you work together, you can create a platform where everybody can essentially showcase what they do. People will naturally gravitate towards that if they believe in your vision. So we set out to do that.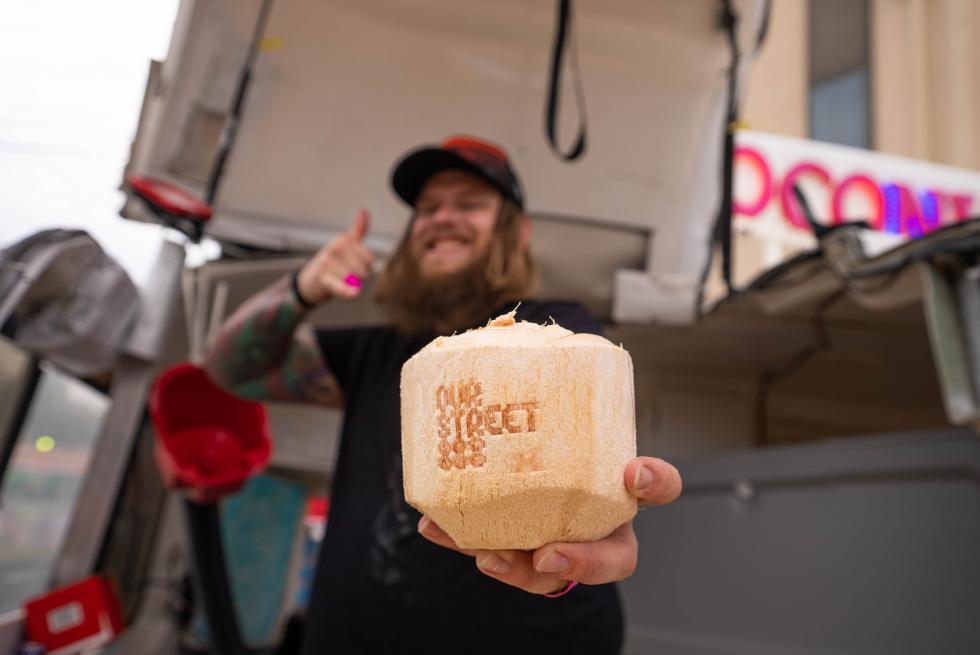 We reached out to all the different people in the community that we felt would see value in doing something like this, and that was really the only reason we were able to do it, because this was truly grassroots. We started from nothing; we had no money to start this concept. And it really came down to people believing in what we were doing.
In terms of planning, we set out to shut down one city block from 6 p.m. to 1 a.m., serve street food and showcase local artists and the different businesses in our community. We thought we might see a couple hundred people. Ten thousand people ended up showing up, which was quite a surprise. We were kind of blown away by the reception. But it was very clear that we were right, that Sacramento would gravitate towards something like this.
2018 was very grassroots; it was pulling as many resources together as possible to try to make it happen. We did a second one that year, and attendance almost tripled from the first one. We only had taken up about double the space, which we already didn't have enough of. So going into 2019, we stretched into about seven to eight city blocks. That one was much more of a success in terms of the actual space allotted for the amount of people that were interested in attending, and we felt that we really had started to figure it out.
Going into 2020, we got a ton of momentum. We were able to start to get the interests of larger players in our city who were going to help take on the responsibility of bringing together resources for us to be able to do this, which was very exciting. And the pandemic happened and that all had to go on pause. Three years later, we had to go back to some of those people and convince them after three years that this thing was still something viable and valuable for our community. Luckily, many people still believed in that vision. We were able to pull it off this year in a way that we hadn't been envisioning since before the pandemic.
What do vendors and small businesses get out of participating in this event?
As everyone knows, it's really hard to start any business. It's definitely really hard to get into hospitality. We like to create a platform where these people can come and be seen by thousands of people. If what they're doing resonates with those people, it could change their lives. And for people like Nash and Proper, it did. In 2018, Our Street was their first event. They had a truck, they wrote Nashville hot chicken on a whiteboard, and the rest is really history. From there, they've taken off. That's just one story of many where people have been able to utilize the night market to showcase what they can do.
You build brand identity for companies. Does an event like this help build Sacramento's brand identity?
Yes, absolutely. We are kind of on a mission to essentially further prove that Sacramento is a destination city. We've always just believed that it's not something new you need to create; it's more about building a platform for where people can experience what's already here. The more that we can do that, the more that people from outside of our city can have that Aha! moment. We do understand that we attract people from surrounding areas and beyond, so when they come here, we want them to get that five-senses approach to what Sacramento really is.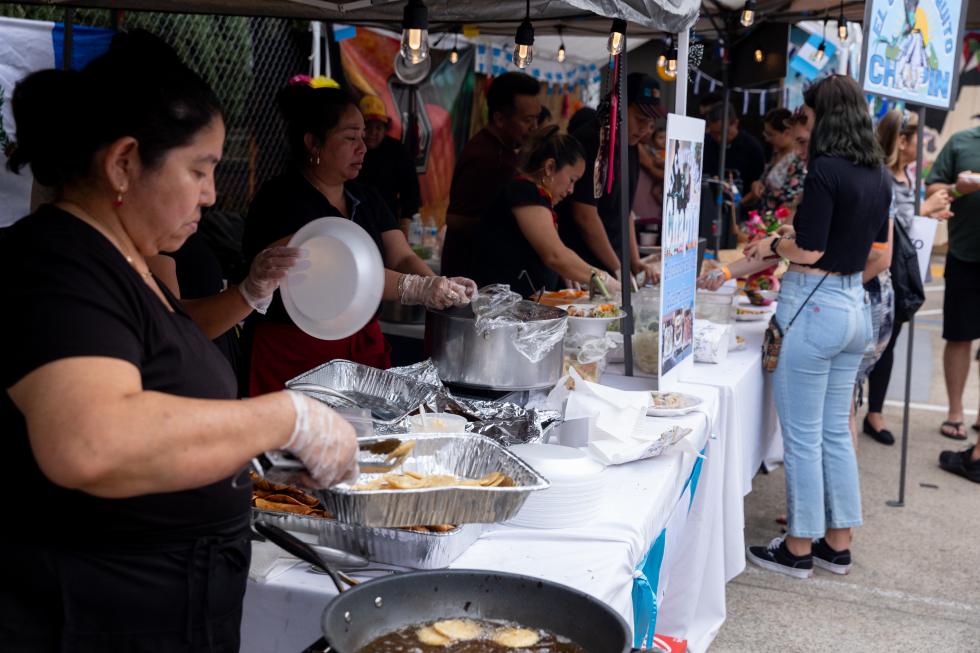 When people talk about the diversity in Sacramento, the night market is the perfect showcase of that idea. We don't sit around and say, how diverse can we make this? It comes to us in an authentic way, because we've worked with so many different people from so many different backgrounds that it's just something that is within us, in the vision that we have, and in how we see our city.
"We don't sit around and say, how diverse can we make this? It comes to us in an authentic way, because we've worked with so many different people from so many different backgrounds that it's just something that is within us, in the vision that we have, and in how we see our city."

Shawn Kahan, co-owner, Yellow Brick Group
Was there anything about the 2022 event that you're especially proud of?
Some things that we're really proud of were all the activations that were outside of food, which was interesting, because the premise of the event is around food. But that's the whole point, right? Food is often a gateway into understanding different cultures and communities. People came for the food, but they were able to witness and experience so many other things.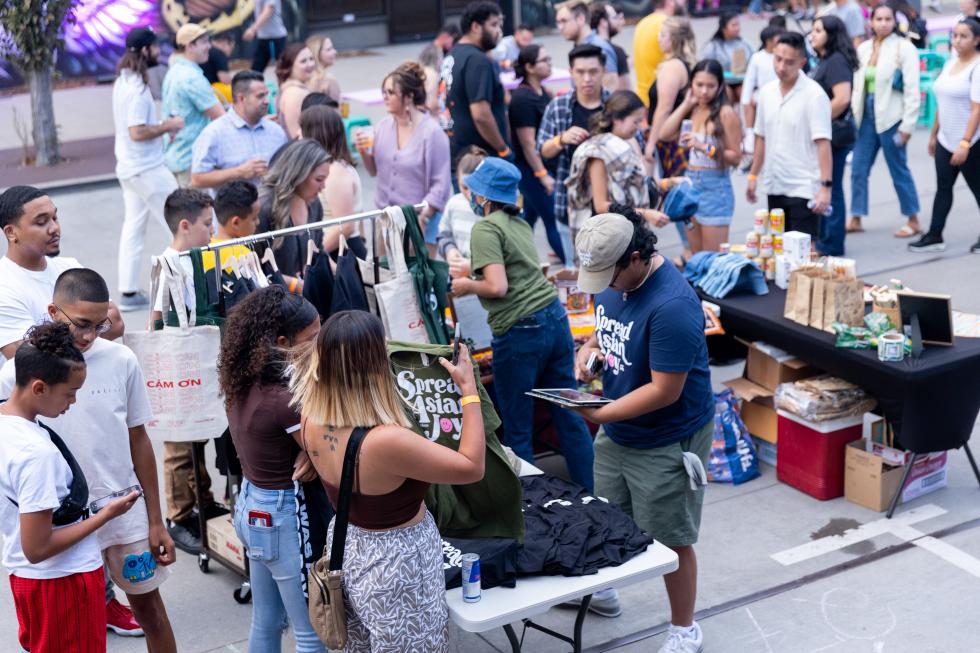 We had an art gallery that was curated by Faith McKinnie, and that was flanked by a live art activation that was curated by Jose Di Gregorio. We had silk dancers that were hanging from the Warehouse Artists Lofts from a group called AirAligned. That was curated by Tresa Honaker, who lives at the Warehouse Artist Lofts. We had a record swap, which was curated by Twelves Wax which is a record store in Oak Park, and that was led by Brian Washington. We also had a silent disco, which was opened by an ensemble of different dancers and musicians and DJs. Another thing was our collaboration with Casa de Español, who celebrated Central American independence and had a bunch of different vendors and free salsa lessons. Just to put an exclamation point on it, every single one of those experiences that I just laid out were all free.
This is truly a passion project. We don't look at this like a business that we're trying to scale for profit. We look at this as a community gathering where we're trying to scale people. That's really the premise of everything that we do.
Edited for length and clarity.
–
Stay up to date on business in the Capital Region: Subscribe to the Comstock's newsletter today.