Do you hear that rumble? See that water glass rippling? It's not a dino, but rather our young professionals honorees charging through the pages of our July issue! Their careers have taken off and now they're off to the races in our derby-themed photo shoot and profiles.
What makes a young professional, anyway? They're often credited with an ability to see things with fresh eyes. Eager to make their mark, they thrive best at companies with values they believe in. As Graham Womack writes in his feature "Youthful Energy," young people want to make an impact, connections and a difference.
Whether you consider yourself a YP or not, you might give some thought to the goals you had when you first started your career. What have you accomplished? How have you changed course? What would you tell your younger self? And shifting to the present — what can you learn from others, from all generations? These questions are worth asking at any point in your career, whether you're collaborating with or mentoring young professionals.
We hope this week's Young Professionals profiles make you feel inspired and reinvigorated wherever you are in your own career journey.
Here's the latest Capital Region Rundown:
We examine the characteristics of young up-and-comers seeking to become beacons for good within their companies; an El Dorado Hills startup develops a touchless user interface that turns hand and body motions into commands for any input device; Meals on Wheels' executive director employs a sense of preparedness and intuition to support seniors; the executive director of Sacramento State's Carlsen Center for Innovation and Entrepreneurship works toward his mission to build the greater Sacramento region into the best place that it can be; Sierra College's director of diversity feels uniquely prepared for her role thanks to an amalgamation of relevant experiences; Habitat for Humanity's chief development officer uses her storytelling skills to help raise $20 million for the nonprofit; a commercial litigator applies his expertise in California alcohol law to advise on food-related programs and guide bars and restaurants through pandemic restrictions; and Altec's operations manager paralays his interest in manufacturing to a career with unlimited growth potential.
Recommendations from our editors:
In this section we editors share what we're reading, listening to, watching or even eating. Here's what we're consuming this week:
Special guest to the newsletter, Comstock's Vice President & Director of Business Clayton Blakely: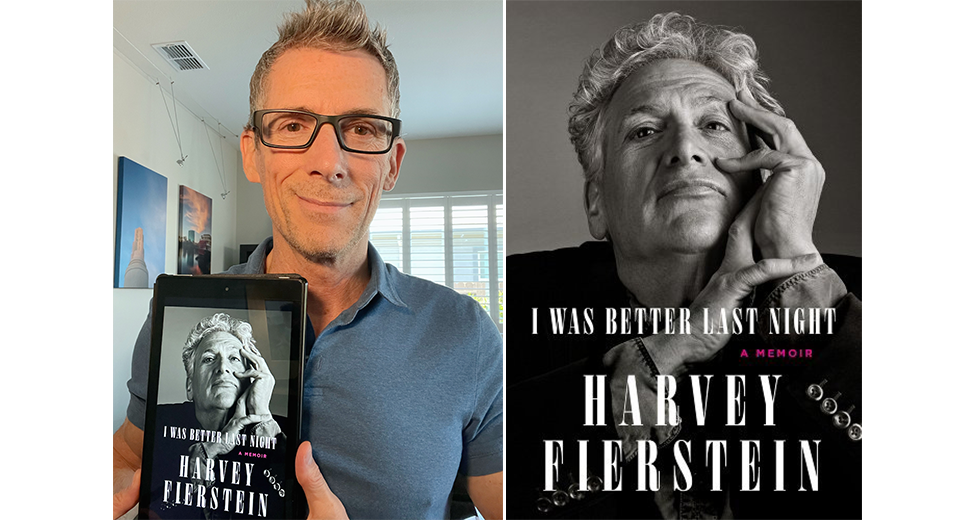 If you're a fan of Broadway musical theater, as I am, you're likely to enjoy the recently released NY Times Bestseller "I Was Better Last Night: A Memoir" by Harvey Fierstein. Fierstein was a major influence in Broadway theater and film from the 1980s to the present, and has earned four Tony Awards, an Emmy, and a star on the Hollywood Walk of Fame, among many other awards and nominations for his work in theater, television and film. In his memoir, he shares his struggles as an awkward LGBTQ youth growing up in Brooklyn trying to make ends meet as a starving student and actor working in experimental community theater productions. Encouraged by a friend to try his hand as a playwright, he soon penned the semi-autobiographical "Torch Song Trilogy," eventually making its Broadway debut in 1982, just as the AIDS crisis was gripping NYC. Fierstein pushed the envelope and helped shape the trajectory of Broadway theater and portrayals of LGBTQ characters and themes in theater and film, but his personal struggles with addiction (which he ultimately overcame), as well as painful relationship and mental health challenges that he shares, show that success did not come without a price.
Vanessa: Last week I subscribed to Peacock TV just so I could watch "Would It Kill You To Laugh?", the new comedy special from long-time collaborators Kate Berlant and John Early. The premise that frames the one-hour sketch anthology reimagines the comedians as one-time co-stars who have become bitter rivals, and are reuniting on a primetime news program (faux-hosted by Meredith Viera). I think GQ described the absurdity of the meta special best: "Rarely is such performative narcissism performative enough to escape the narcissism beneath it. Rarely is it so observant. And rarely is it ever so funny." I was also tickled to see echoes of their 2020 Instagram video depicting a hilariously passive aggressive pandemic catch-up sesh. Oh, and I'm obsessed with their recent Vogue fashion spread!
Judy: When Comstock's recently spent three days doing our fun photo shoot at Canon restaurant in East Sacramento for this month's Young Professionals issue, we were treated to the alluring scents and aromas of chef Brad Cecchi and his team prepping the menu for the week. They were busy shucking corn, peeling beans and simmering stock that smelled so delicious. We encourage you to join us by showing appreciation to owner Clay Nutting for letting us take over his sophisticated restaurant, moving chairs and tables around, running cords and propping up lighting fixtures by checking them out for dinner Wednesday through Sunday, either inside or on their lovely outdoor covered patio. See the place where the Comstock's Young Professionals issue came to life!
Jennifer: The literature of the pandemic is coming out this year, with poets and novelists trying to put words to our profoundly strange shared experience. One of the best examples I've read so far is "Seven Steeples" by Sara Baume, about a couple (of sorts) who decide to self-isolate in a countryside cottage for seven years. The pandemic is only obliquely hinted at several years in, but this is a book that could have only come out of this moment, and could only have been written by someone intimately acquainted by having nothing to do but take walks and watch dust bunnies roll across the floor.
Odds and ends
We're hiring! We're seeking a full-time, creative and motivated ad designer to become a valued member of our talented team. Learn more about this unique opportunity, or please share it with a designer in your life who might be interested.
Don't forget to subscribe to the magazine to stay up to date on the region's business trends, and follow us on Instagram, Facebook, Twitter and LinkedIn for daily stories and extras.